On June 4, Souspilnist Foundation, with the support of Internews Ukraine, Detector Media and the Independent Media Council hosted an expert discussion "Media and Authorities. Lost in Translation?"
The event aimed to conduct expert analysis of communications between the government and media during the global crisis, external aggression and economic challenges.
The discussion, inter alia, touched upon the development of mechanisms for better communications between the media and authorities, the bill On Media and the (im)possibility to create a pool of journalists at the President's Office.
We have prepared the most interesting media experts' statements for you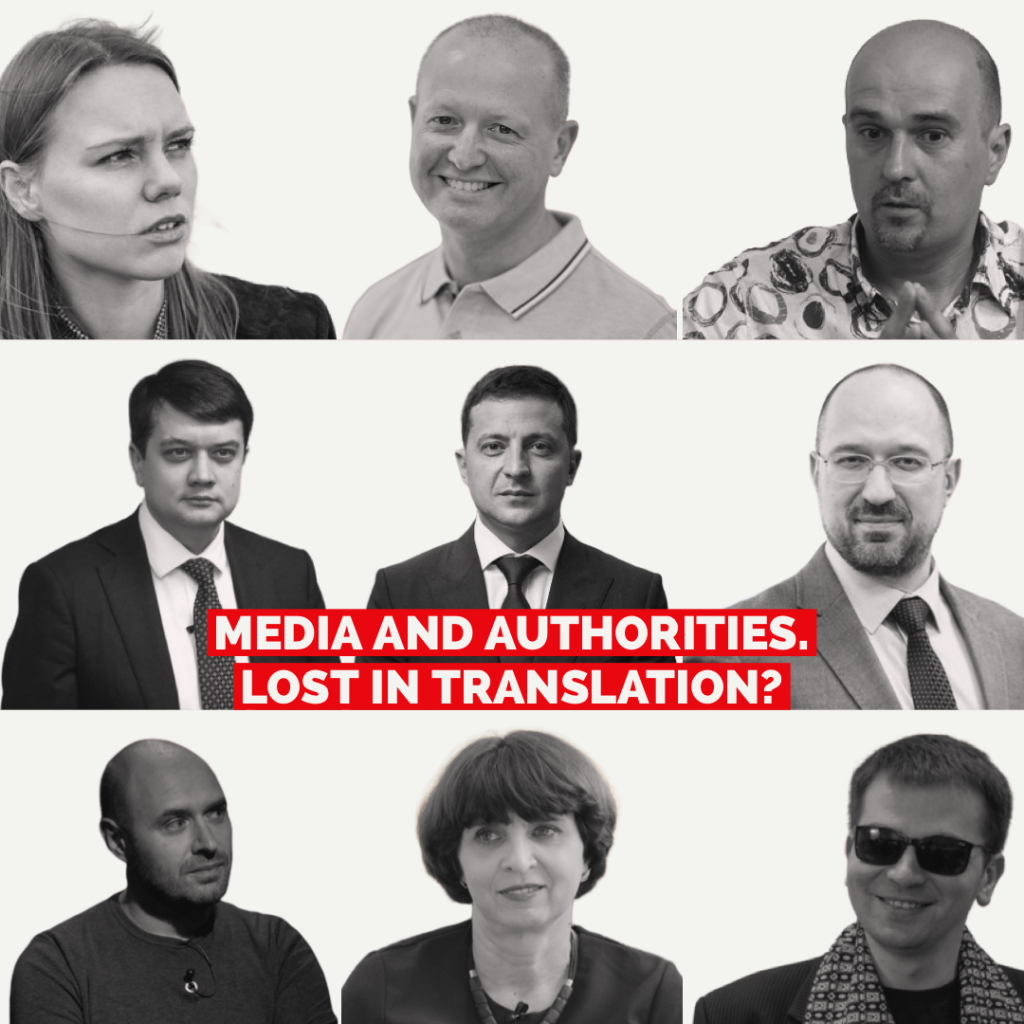 Kostiantyn Andriyuk, journalist, author of YouTube channel "ZupynyLosia"
One can say that there is a communications crisis between the media and authorities, but almost nothing has changed for the better since the previous leadership.
The people in power have realized that they can ignore numerous journalistic investigations, criticism, and they can get away with all of this, figuratively speaking.
Danylo Mokryk, investigative journalist, Bihus.info
The authorities are doing something else in their communications with journalists. Instead of thinking about improving communication, even in the formats they implement, they are trying to further limit it.
At Zelenskyi's last press conference, I didn't get the impression that they were trying to create a "warm bath" for the president. But the communication they started to implement afterwards is   disturbing.
Recently, Deputy Head of the Office of the President Kyrylo Tymoshenko said that it is necessary to create a pool of 20-25 journalists who will attend Zelenskyi's briefings and press conferences. What does that mean? The events will be covered by accredited journalists who can be deprived of accreditation (should they behave in a strange way, in the opinion of the President's Office).
Anna Babinets, Editor-in-Chief of the Investigation Agency "Slidstvo.info"
As an investigative journalist, I cannot say that we've ever had a warm, trusting, understandable relationship with government officials before. Therefore, I cannot say that something has changed significantly at this point.
I'm more frightened by the idea of dividing journalists into right and wrong ones. Currently,  conversations and bills say that only those working in the registered media will be considered journalists.
A journalist is determined by the line of work, and the fact that the state has to put some sort of seal is an artificial obstacle to journalistic work.
Kostiantyn Kvurt, chairman of the board, Internews Ukraine
The authorities clearly understand which media they need or do not need. They cooperate with those they "need" in terms of their use. These media have large audiences and certain electoral sympathies. They either do not work with others or simply fail to notice them.
…
The authorities work with society through the media using political technologies: manipulation, misleading, keeping mum on awkward topics, bringing out convenient topics "from a drawer". The problem is that Ukrainian information space is largely run by various Russian  security forces. In Ukraine, there were and are no mechanisms to protect this information space.
Inna Kuznetsova, editor-in-chief, Radio Liberty's Kyiv bureau.
Other government bodies, not only the President's Office, have no liking for journalists. I do not know to what extent we can resolve the issue of, for example, giving the floor to investigators at press conferences, briefings. Because there are TV channels with a multimillion audience that will say: "We have a big important question regarding another issue, and you are talking here about the assets of SBU's head or someone else."
It will be difficult for us to combat this. It is necessary to create a journalistic community, and deal with quotas.
Volodymyr Noskov, staff correspondent of Radio Liberty for Kharkiv and Kharkiv Oblast
It is now very important to understand the environment the regional journalists live in. In fact, regional authorities – whether regional state administrations or city councils – are sensitive to  information policy of the Office of the President or the Presidential Administration. According to my observations, our authorities do not want to talk about responsibility, do not want to answer problematic questions – only PR moves. That's the communication we have.
This event is made possible with the support of USAID Media Program in Ukraine, implemented by Internews, and with the help of private patrons.