The journalists from across Ukraine received an intensive training during the December 4 session of the School of Strategic Communications and Anti-Fake. 
It was another in the series of events organized by Souspilnist Foundation with the support of Detector Media, Internews Ukraine and the Independent Media Council.
This time, the lecturers were Olha Yurkova, journalist, co-founder of StopFake and 2018 TED Fellow, Dmytro Tuzov, NV Radio host, Dmytro Zolotukhin, founder of the the Institute of Post-Information Society, deputy minister of information policy (2017-2019), Andriy Sydorenko, head of the Care You program at Souspilnist Foundation, Denys Hubashov, analyst at Texty.org.ua, open data policy implementation consultant.
During her lecture, Olha Yurkova noted that over the six years of StopFake's works, hundreds of thousands of news were fact-checked,  over three thousand fake news reports were refuted, two large-scale researches into the main narratives made up by Russia with regard to Ukraine were carried out, with 18 myths identified as part of Russian propaganda. Overall, it has to do with the following:
discrediting Ukrainian government,
discrediting the reforms and institutions,
worsening relations with the West,
coup d'état and an ongoing civil conflict in Ukraine,
Russia being a peace maker, not an aggressor.
"Hence the idea that Ukraine is a failed state, that is a state that's not made it, a bankrupt state (this is basically the main point of Russia's propaganda). We should look at such statements very critically; even that we do like to yell "Treason!", we should still stop doing that at such moments and look for "victories", because they're there too", Yurkova said.
Olha Yurkova and Dmytro Tuzov, specifically taught how to spot fake news and what tools can and should be used to fact-check information: photo, video, news and even films.
"Art media also has an educational and informational function, and so my thinking is that we should react to everything going on in the media sector, since it has an impact on all of us: our brain, politics, countries, etc.", Dmytro Tuzov noted.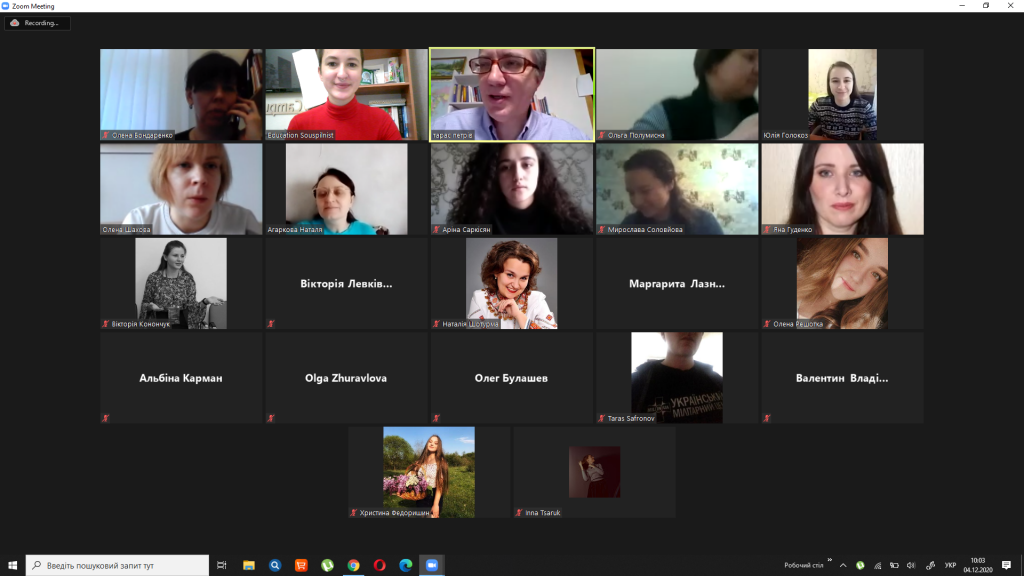 Dmytro Zolotukhin spoke about countering disinformation at the state and legislative levels, and about the role of the media in this.
"I know very well that disinformation is part of operational wargaming and special operations carried out by security services. Due to their inner conceptual knowledge, journalists cannot work with a category that form a foundation of the world of security services. That's why I'm generally very sceptical towards the phrase "countering disinformation in the media". I believe that journalists don't have to counter disinformation but do their work well", opined Zolotukhin.
Denys Hubashov spoke about open data and the services based on them, as well as the data visualization tools.
"Open data harm very rarely but they create lots of comfort in life – they have a huge anti-corruption effect, helping understand what our state's cardiogram looks like", noted the expert.
In his turn, Andriy Sydorenko spoke about how our brain works with information, offering everyday life hacks for working with information. Specifically, the expert suggested that journalists find their own trigger topics when working with videos and graphic content, responding to them by turning off or down the sound of the video, using the settings to make things appear smaller or stop them from playing automatically, and making a pause every 30 minutes:
"The longer you work on a story or material, the worse your brain starts to work, and also your critical thinking. 5-min pauses help you get your act together.
Follow our updates on social networks and our site to participate in the next School of Strategic Communications and Anti-Fake.
This event was made possible with the support of USAID-funded Media Program in Ukraine, implemented by Internews, and with the help of private patrons.